Predictive Business Intelligence
Our Products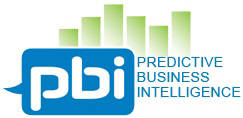 Speech Analytics
Do you worry about what you don't know about your business?
What are your customers telling your agents and what does that mean to your business?
In today's competitive business climate, information equals revenue. The difference between winning companies and all others is the information they control, how it is managed, and how they act upon it. The ability to know what others are saying and the use of that information is what will drive your company to greatness.
Maybe you're already getting reports on customer feedback. But is it based on random picks out of your information database? What would those reports look like if they were ran on all your data? A picture paints a thousand words.
Predictive Business Intelligence has created a 22nd Century solution to an age old problem: How can we get better market intelligence so we can make sound business decisions? The PBI suite of solutions puts this information right at your fingertips giving our clients the ultimate competitive advantage
The PBI advantage allows our clients to gather the information they need to understand exactly what their customers are saying. Alternatively, you will gain valuable insight into how your company employees are communicating with your customers. As a result you will see increased sales, reduced costs and improved margins. With the power of speech analytics, here are more advantages that can be recognized and explored:
· Market Intelligence
· Operational Efficiency
· Key Customer Sentiment
· Product Intelligence
· Early Warning Signs
· Customer Retention and Satisfaction
· Fraud Detection
· Legal Investigation
· Compliance
What's best is that it's portable! Voice, data, text, and web based posts can now all be combined to develop a complete picture of what people think and are saying about you and your company. Automatic notifications can be sent to your desktop, smart phone or tablet PC whenever a critical conversation takes place.